Essay About Interesting Place In Malacca
A BRIEF HISTORY
Malacca was founded by a fleeing prince from Sumatra in 14th century, it developed into a major trading port for ships from India and China. As the Melaka Sultanate flourished, the Portuguese conquered Malacca in 1511. Later the Dutch took over in 1641 until much later the British empire ruled Malacca. The state finally obtained independence with the then "Malaya states" in 1957. Today, one will find many remnants of the glorious past dated back more than 500 years ago.
HISTORICAL PLACES
A replica of the Melaka Sultanate palace was reconstructed at the foot of St. Paul's Hill. The design is based on the description of the palace from the sixteenth-century 'Malay Annals,' or 'Sejarah Melayu.' It is the only building of its kind in Malaysia, and it provides a rare glimpse of the ancient Malay kingdom that once flourished here. The palace houses the Malacca Cultural Museum, which includes many artifacts of that kingdom..
| | |
| --- | --- |
| | On top of St. Paul's Hill is the St. Paul's Church, once the prayer house of the Portuguese Catholics, then turned into burial ground for their noble dead by the Dutch. The tombstones have Latin and Portuguese inscriptions on them. St. Francis Xavier was buried here in 1553 before his body was moved to Goa in India. |
| | |
| --- | --- |
| After the Portuguese captured Melaka, they built a fortress to defend themselves. The fortress, called A'Famosa suffered severe destruction during the Dutch invasion. What's left today is just the entrance walls, still well preserved till today | |
| | |
| --- | --- |
| | The Stadthuys (1650) was the official residence of the Dutch Governor. It now houses the Historic Museum and Ethnography Museum which has many traditional bridal costumes and relics on display. Nearby, one will also find the Christ Church built in 1753, another fine example of the Dutch architecture. |
During the peak of the Malacca Sultanate, the Sultan was gifted the Princess Hang Li Poh by the China Emperor. Her entourage settled in Bukit China (Chinese Hill). Today, Bukit China is believed to be the largest Chinese cemetery outside China, with many tombs dating back to the Ming Dynasty. Hang Li Poh's followers built a well in 1459 that is said to have never dried up. Today, the well is turned into a wishing well and many believe those who toss coins into the well will return again to Malacca.
| | |
| --- | --- |
| The Kampung Keling Mosque is one of the oldest in the country (17th century). It's a blend of Sumatran and Western architecture with a 3 tier pyramid roof, a touch of Hindu influence perhaps. The carved wooden ceiling is supported by elegant Corinthian-styled columns. | |
| | |
| --- | --- |
| | Another well preserved building, the Cheng Hoon Teng temple was constructed in 1645 and is believed to be the oldest Chinese temple in the country. The eaves of the temple are decorated with Mythological figures and animation made from broken glass and porcelain. Besides the figures, the wood carvings and lacquer work are almost breath-taking. |
There are many other places of historical value well worth a visit. What is mentioned above are just some of the "Not to be miss" sites. If you have more than a day's stay in Malacca, these places are worth visiting too.
OTHER HISTORICAL AND INTERESTING SITES
Baba and Nyonya Heritage Museum. 'Straits Chinese' or the Baba and Nyonya , are Chinese of noble descendants that have adopted much of the Malay culture into theirs. The public can now review the heirloom unique to this heritage at private museum run by the Babas and Nyonyas of Malacca. Floral and pictorial motifs grace parts of the front of the house whilst the interior is adorned with intricately carved fittings finished in gold leaf.
Hang Jebat and Hang Kasturi's mausoleum. Two of the Malacca Sultanate's well-known warriors and champion of justice. Hang Jebat was unceremoniously killed by Hang Tuah in a duel of honour that lasted 3 days and 3 nights. He was killed in the name of justice to avenge the sultan's hasty punishment against Hang Tuah for a crime he didn't commit.
Hang Tuah's well is located in Kampung Duyong where Hang Tuah was born and spent his childhood among four of his good friends who would later become the famous warriors of Malacca Sultanate. The well is said to be the abode of his soul which takes the apparition of a white crocodile. For a commoner to catch the glimpse of Hang Tuah is hardly likely. It is said that the holy among us can ever hope to see the apparition.
Jonker's Street, once the richman's street is now a living proof of Malacca's rich baba-nyonya heritage. The buildings are immaculately constructed with elaborate carvings on its pillars and walls. The street is also famous for its antique shops.
Maritime Museum is constructed after 'Flora De La Mar', the Portuguese ship that sank off the Coast of Malacca on its way to Portugal. With its hull laden with invaluable treasures seized from Malacca, the ship was doomed from existence had it not for the efforts to Malacca's heritage. At the museum, visitor can get a closer look at Malacca from the famed Malay Sultanate of the 14th century to the Portuguese era, the Dutch era and the British era. There are exhibits of foreign ships that had once called at the port of Malacca during the height of its maritime hegemony.
Memorial hall (1912), the landmark where the nation's first prime minister announce proclamation of independence from the British empire. It has been preserved with archive pictures of the country's struggle to attain independence.
Portuguese Square has a mild affinity to Portugal and known to be 'Mini Lisbon' in Malacca. Located within the Portuguese Settlement, the square is the culmination of Portuguese culture in its full splendour and colours. One will also find authentic Portuguese restaurants at the square.
Sam Po Kong Temple was constructed in dedication to Admiral Cheng Ho. The temple was named after a fish that miraculously saved the admiral's ship from sinking after it had been hit by a storm enroute to Malacca from China. The fish mysteriously placed itself against a damaged hull preventing the ship from taking on water.
Sri Poyyatha Vinayagar Moorthi Temple is one of the first Hindu temple built in the country at the turn of the century. It was built on the plot given by the Dutch.
St. Francis Xavier's Church was built in 1849 by a frenchman, Reverend Farve. The Gothic towered church is dedicated to St. Francis Xavier, well-remembered for his missionary work spreading Catholicism to South East Asia in the 16th century.
St. John's Fort was rebuilt by the Dutch during the third quarter of the 18 th century, the fort was once a private Portuguese chapel dedicated to St. John the Baptist. The fort has an interesting feature in that its gun embrasures face inland as during that time, attacks on Malacca came mainly from the land instead of from the sea.
St. Peter's Church was built in 1710 by the Portuguese descendants and comprising an architectural mix of the Oriental and Occidental.
~ ~ ~ ~ ~ ~ ~
Historical Places | Other Attractions | Beach & Island
Location Map (Town) | Location Map (Air Keroh) | Travel Info
Malacca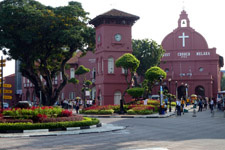 Malacca (also called Melaka in Bahasa Malaysia) is a wonderful city for nice daytime activities or for a stay of more than one day. There are quite a few hotels and hostels available, but there are also many homeowners who are willing to put their house in Malacca up for rent. The city has many beautiful attractions, all clearly representing the great history of the city. From Kuala Lumpur you can easily access Malacca by bus, taxi or rental car

. Residents of the capital often travel to Malacca during weekends to have a good rest and to enjoy the delicious food which the city is famous for.
Opposite St. Francis Xavier's Church you will also find a large car park where you can park your car (secured) at the price of RM10. This is especially useful if you travel to Malacca by car. There are many trishaw drivers in the city, who will drive you trough the town for only a few ringgit. This used to be a fun means of transportation, but in the last few years it has gotten a little out of hand. The drivers started to install large sound systems onto their trishaws and now they drive through the streets of Malacca making a lot of noise. I cannot imagine that this is what UNESCO had in mind when they decided to make it a World Heritage Site. A ride from Porta de Santiago to Jonker Street for example will cost you RM10.
On this page:
Attractions in and around Malacca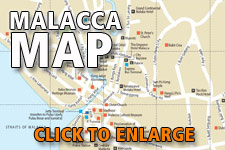 Fun attractions in Malacca are for example a visit to St. Paul's Church, formerly a church for the Portuguese and later a cemetery during the Dutch occupation. The nearby sight Porta de Santiago was once built by the Portuguese as a fortress to protect against attacks by the Dutch. There is not much left after several wars, but the entrance is still upright and in place. The Dutch governor had the Stadthuys built, a beautiful building with some obvious Dutch traits. Next to the Stadthuys you will be able to find Christ Church, in which you can recognize the Dutch architecture of that time more clearly. Other famous places in Malacca are Jonker Street, Bukit China, Kampung Keling Mosque, Cheng Hoon Teng Temple, the Portuguese settlements and the crooked St. Francis Xavier's Church.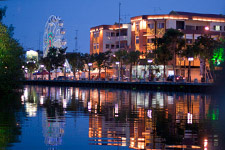 Another great attraction is a boat trip on the small river that runs through the city. The take-off point is near St. Francis Xavier's Church. There is also a boarding location near the bridge leading to Jonker Street. A boat trip along the canals costs RM10 per person (RM5 for children). The tour takes about 30/40 minutes. The tour is fun during the daytime, but also pleasant to do in the dark at night. When it is dark, all of Malacca lights up (which is occasionally a bit too touristy).
Malacca can also be explored by bus as tourists can visit the historical sites of Malacca by traveling in a red double decker bus for only RM5 per person per day. The great thing about this 'Malacca City Tour' is that you can hop off at a historical site and hop on again on the next bus to visit another historical site. There is also the 'Panorama Melaka' single decker bus that takes passengers to numermous other interesting places within and around Malacca. The fare for this bus is RM2 per person per day; you can go to Malacca Sentral, Malacca library, Malacca Hospital and many other places (this bus also does the 'less touristic route'). There are numerous places where you can start the tour; offical start for Panorama Melaka is at the Malacca Sentral Bus Station. Check this map for more information on routes of the busses. Operating hours are between 7am and 10pm daily. The double decker bus will depart every 45 minutes from a particular stop along the route, the panorama bus every 20 minutes.
History of Malacca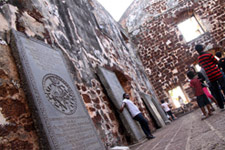 Malacca was founded around 1400 by a former prince from Sumatra (who ended up in Malacca during an escape attempt in that area). Malacca turned out to have a very good strategic position, and not long after the foundation the influx of merchant ships from India and China started. During that time Malacca grew into one of the major ports in South-East Asia today. In 1511 the Portuguese traders first set foot on the Malaccan soil. In 1641 the Portuguese gave up their power struggle (and war) with the Dutch and from that time onwards Malacca was under Dutch reign. Only a few years later, the English gained control over the area (after the Netherlands traded this region with the English for parts of Indonesia). The British rule lasted until 1957, when Malaysia was formed and Malacca continued as a semi autonomous province.
Jonker Street Night Market Malacca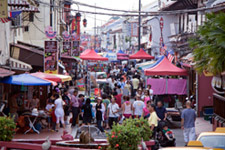 Jonker Street is the artistic center of Malacca. Here you will find a large number of art galleries, antique stores and shops where you can buy various ornaments. Along Temple Street (parallel to Jonker Street) there are many nice small shops. One shop in particular sells very nice traditional plaques with illustrations of ancient buildings of Malacca. The small ones sell for around RM40, the bigger ones for over RM200 (there are handcrafted and very beautiful). Each night Jonker Street is transformed into a great evening market. You can buy anything and everything here and there are also several places where you can sit down and eat or drink (especially many local snacks). Jonker Street is also filled to the brim with small restaurants and other eateries where you can eat well for a small price. Especially the Chicken Rice Ball restaurants are very popular among the locals. The evening market will start daily at 18.00 and closes at midnight. Popular snacks are Popiah, Potato Twisters and local sweet kajang cakes.
Tips when visiting Malacca
Take the boat trip down the river when it is already dark; the city will be illuminated.
A delicious breakfast or lunch you can get at Limau Limau 5 near Jonker Street (a bystreet of Jonker Street). Especially the upper floor is very pleasant and cozy.
A local delicacy are Kajang Cupcakes, delicious little cakes with sauce in them.
At the aforementioned dessert restaurant Jonker Desert 88, you can also eat delicious laksa.
From Porta de Santiago it is an easy walk to Dataran Pahlawan Mega Mall (in a 1 minute walk you're at the northern entrance).
Each Sunday morning there is a flea market with antiques along Jalan Hang Lekir. Mostly you will find ancient coins and medals here.
The best time of day to visit the beautiful Dutch tombstones at the top of Porta de Santiago is around 8 o'clock in the morning. It is still cool and very quiet. Especially in the weekend from 10 o'clock in the morning onwards it will be extremely busy and crowded at this attraction. It is also best to visit the rest of the UNESCO World Heritage Site early in the morning.
At the seaside near the Portuguese Settlements you can enjoy dinner at one of the many local seafood restaurants.
Shopping malls in Malacca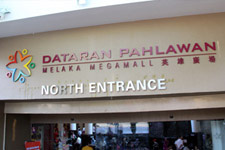 Not far from the cultural attractions you will find a nice shopping mall called Dataran Pahlawan Megamall. You can find several popular international brands, but also many small shops with local brands. There is also a huge F.O.S with many different brands. There are also several restaurants and a large covered market. Other well-known malls are: Malacca Mall and Mahkota Parade Shopping Mall.
Videos of Malacca
Check out all the videos we made in Malacca here! (opens a new YouTube page)
How to get to Malacca
By rental car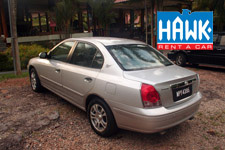 Another way to get to Malacca is by rental car. It is easy to rent a car in Malaysia. Numerous car rental companies have special pick up locations throughout the country. Hawk Malaysia

for example has a pick up & drop off point at KLIA (airport) and in the city center, so you can easily pick up the car at an Hawk office in Kuala Lumpur and drive with it to Malacca. From Kuala Lumpur it is only a 2,5 hour drive to Malacca.
By bus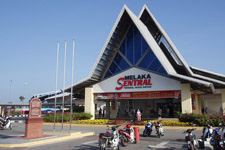 The cheapest way to reach Malacca is by coach. There are quite some bus operators that have daily busses driving between Malacca and many other locations within Peninsular Malaysia. From the main bus terminal Puduraya in Kuala Lumpur many busses a day leave towards Malacca. The trip from Kuala Lumpur to Malacca by bus will take around 2,5 hours. Tickets from Kuala Lumpur to Malacca only cost around RM12.50 (one way). You will arrive in Malacca at the Malacca Sentral Bus Station. From here you can easily take a local bus to the center of the town; or you can take a taxi to your hotel.
By air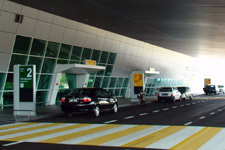 Malacca International Airport has been renovated in 2009 to be able to cater for international flights. Currently it can handle up to 1.5 million passengers annually. The airport however stays behind many other smaller airports in Malaysia in terms of traffic; as not many airlines flies to Malacca. This is also due to the fact that the international airport of Kuala Lumpur (KLIA) is only 1,5 hours away. From the airport you can easily take a bus to Malacca; many busses depart from KLIA to Malacca on a daily basis. Currently only 3 airlines fly from Malacca Airport to Indonesia.
By train
Though Malacca has no train station, the main train(s) between Singapore in the south and Bangkok in the north (with Kuala Lumpur as one of the main stops) do stop nearby Malacca at Tampin station. From there you can either take the bus or a taxi to Malacca.
Travel between Malacca and Singapore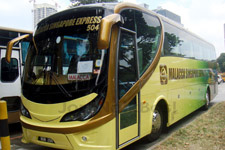 Malacca is very popular among citizens of Singapore. Many Singaporeans travel to Malacca in the weekends as it is only a 3,5 hour drive. As driving a car into Malaysia can sometimes be a bit of a hassle; many Singaporeans rely on busses to take them to Malacca. Many busses leave on a daily basis to Malacca (and to Singapore from Malacca). Fares are only a couple of ringgits. There also are a couple of luxurious bus operators; where you travel in a huge seat with movies and even internet onboard.
Dinner places in Malacca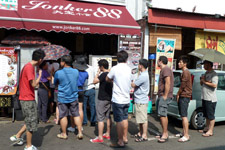 Most people come to Malacca either because of history or because of the delicious cuisine. Pork is served in many restaurants, which is an exception compared to many other places in Malaysia (as most of the inhabitants are Muslims). There are also many delicious dessert restaurants, such as the very popular Desert Jonker 88. Here you can get the best Cendol and Ais Kacang (both famous local desserts in Malaysia). Along the popular street Jonker Street there are many more good restaurants to be found. During the evening market along Jonker Street you will also be able to buy many different snacks.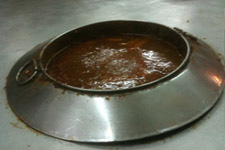 Another popular concept in Malacca is Sateh Celup. This is quite similar to fondue, but instead of cheese, peanut sauce is used. In the middle of each table there is a hole in which a pan is heated from below. You can get all kinds of skewered satay from various freezers and then put them in the pan with heated sauce. There are various types of satay with standard meat, but also squid, fish, vegetables, bacon and various other sorts; delicious and a lot of fun to do, especially because you are eating among the natives. The place where we usually go to is called Ban Lee Siang, but there are more places where you can enjoy Sateh Celup.
Popular restaurants in Malacca
New Heritage Cafe
Calanthe Art Cafe
Limau Limau Cafe
Jonker Dessert 88
Geographer Cafe
Chung Wah Chicken Rice Ball
Capitol Satay
Restoran Ban Lee Siang
Pak Putra Tandoori Restaurant
Orang Belanda Art Cafe
Donald and Lily's
Taragon Nyonya Bistro
Popular hawker centers in Malacca are: Newton Hawker Center, Plaza Pandan Hawker Center, Padang Pahlawan Hawker Stalls, Jalan Kee Ann Open-Air Food Stalls, Wang Food Court, Pitt Street Food Court and Tengkera Foodcourt.
Accommodation in Malacca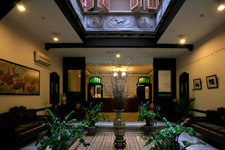 Malacca is immensely popular among the inhabitants of the city of Kuala Lumpur. Just like Port Dickson, which is located a bit more up north, Malacca is also a destination where people go off to flee from the hustle and bustle of the city. Especially around national holidays the rush is enormous. It can be so busy that is hardly possible to find available accommodation. There are numerous hotels and resorts in and around Malacca (see below); but there is also more then enough choice in basic accommodation. Around Jonker Street you can find many small hostels and lodges, where you can stay for prices below RM50 per night.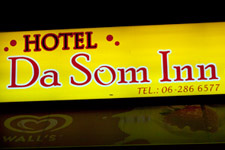 Da Som Inn can be recommended, which is a small hostel where you can stay for less than RM100 per night. A more luxurious room with aircon is available for RM138. Rooms are decent and the owner and staff are very friendly. Da Som Inn is located in the middle of Jonker Street, a minute's walk from the market and the famous eateries. Another good hotel is Hotel Puri Malacca

. This is hotel a bit more expensive in a neighborhood with mostly basic accommodation. There is a pleasant atmosphere in the hotel, and you can also get a very good massage at their spa.
Popular hotels in Malacca
Below a list with some of the better hotels in and directly around Malacca (view all hotels here

in a new page).
Budget travelers will be glad to hear that there is enough budget accommodation available in and around Malacca; especially around the Jonker Street area.
Map of Malacca
Below you can see a map of Malacca. You can simply scroll through the map with your mouse. Use the markers on the left to zoom in or out of the city map.
Subscribe now to never miss a post!
Subscribe to our email updates or the RSS feed, right now!